Happy New Year!!!!!
I stole this from Stacy's blog. It sounds like a lot of fun and I think I'll try and get to it.


Let's celebrate the New Year, with new books!!
The hostesses of Romance Bistro are throwing a week long
"Ring in the NewYear Party"

There will be contests, excerpts, blurbs, Q&A, and prizes galore!!
All authors are welcome to participate we just ask that you give out at least
one prize per day that you participate.
Readers please join in on the fun and spread the word. The more the merrier. Our handsome waiter Joe will be on hand all week long giving out refreshments, snacks, and relaxation massages!!
You don't want to miss this party!
The events will be separated as followed:
Tuesday:
Erotic
Wednesday:
Contemporary
Thursday:
Paranormal
Friday:
Historical
a

Follow the confetti to
http://groups.yahoo.com/group/Romance_Bistro/
to join Romance Bistro so you don't miss out on the fun.
a

Authors:
If you'd like to participate please send an email to Kelley @ kelleyvitollo.com (no spaces) by
Wednesday January, 3
to sign up.
Let's throw a "Ring in the new year" party that will have everyone
Getting to know you.....(Are you humming?)
So, this little bit of blogging has been floating around the blogosphere and I finally got tagged by Crystal.

Four Jobs I've Had:
1. Waitress (A really BAD waitress. It was sad. Nuff said)
2. Cashier in a grocery store
3. Lab Rat. (I used to wash lab glassware with acid solutions at a Waste Water lab)
4. Certified Nursing Assistant

Four Places I've Lived:
1. Napa, California
2. Abilene, Texas
3. Redding, California
4. Eureka, California

Four Favorite Foods:
1. Potato Chips (not on my diet)
2. Chocolate (not on my diet)
3. Pizza (not on my diet)
4. Steak (on my diet, but not in my budget. LOL)

Movies I Could Watch Over and Over
1. Practical Magic
2. Emma (NOT the one with Gwynth Paltrow)
3. Pride & Prejudice (Only the A&E Presents version with Colin Firth)
4. A Christmas Story

Four TV Shows I Watch:
1. America's Funniest Home Videos
2. Alton Brown's "Good Eats"
3 Myth Busters
4. Alias

Four Places I've Visited:
1. Montana (my Grandparents had a cabin near the Gallatin Natl. Forest.)
2. Yellowstone National Park
3. Mexico (TJ)
4. Wallowa, Oregon.

Four Places I'd Like To Visit:
1. Ireland
2. Canada
3. Alaska
4. England (primarily Stonehenge)

Four Websites I Go To (almost) Daily:
1. Romance Divas
2. Sweeter Romantic Notions
3. Lots of blogs. Tons of blogs. Love to blog hop.
4. Amazon

Four People I'm Tagging To Do This: If they haven't already
1.Kelley Vitallo
2. Stacy Holmes
3. Paula Graves
4. Tracy Montoya

Merry Christmas


MERRY CHRISTMAS EVERYONE

For Christmas this year, I give you Christmas roses.
Do you know the legend behind the Christmas rose? I used the story in "A Taste Of Christmas" because it's so beautiful.
I know everyone is busy this season, but I want you to know--lurker or active participant--I appreciate you all.
When I began the journey to becoming a published author, I had no idea that I was going to add "family" to my life. Now, I have "cyber family"--those people who have guided me, been my cheerleaders and accepted me, online. I'm grateful to the writing communities of Romance Divas and EHarlequin that have given me so much.
Have a wonderful holiday season. I love you all and I'm praying you all have a safe and warm Christmas.

One Last Taste....

A Taste Of Christmas is perfect reading for those holiday rushes. Short and sweet. I may not be a great blogger for the next few days. I fill in for a secretary when she goes on vacation and I'll be working.

So one last taste of the book that is in my very own name. It's kind of scary. I'm standing at the beginning and there's two ways to go. I can either continue to submit and hone my craft or slip into obscurity. I have the irrational feeling that "one wrong move" and I'm finished.

Yet, I know I have a lot of stories in me. I had a romantic fantasy critiqued this week. Both my critique partner Rachel Brimble and Crystal Jordan noticed improvement in my writing. Crystal's comments were so great and it made me feel like I might actually have it in me to write the stories that won't quit bugging me. Now, I just have to clean it up and submit it.

And that's my point. I have to keep on writing and submitting. That's the process. The more I write and submit, the better my writing will become. I have to say that even the rejections I've recieved were immensely helpful. Submitting to Harlequin introduced me to Rachel and Jenna Bayley-Burke. Jenna introduced me to Romance Divas. Without the process, no career.

How's that process going for you right now?

Shadow's Of Passion Blog


I'm blogging over at Shadows Of Passion. Please come on over and comment.

Thank you Cathie Morton for participating and WINNING a free copy of "A Taste of Christmas" at the Joyfully Review Chat on Sunday.

Sweeter Romantic Notionsis having a "Christmas Extravaganza" and I'll bet there will be some awesome book giveaways and contests. Come on over and check it out. December 18th all day long.

Doing The Happy Dance!!!!! I Sold!!!!


Whiskey Creek Press/Torrid has offered me a contract for "Heart of the Storm", my romantic suspense about crab fishing.
Squeeeeeeeeeeeeee!
Why is this one such a big deal? It's 46K. I was beginning to wonder if I could write anything longer than 25K and I was questioning my ability to write romantic suspense. But here it is, sold for the Torrid Alaskan Men line. I'm so thrilled.
I did start the sequel called "Eye of the Storm". Guess I'll be working on that. Yayyyyyyyy.
It drives me crazy that Romance Divas has been down all week.
Oh Oh Oh!!!!! I almost forgot



Comes out today.Buy it right here

Blogs I Love
I have another contract for a St. Valentine's story with Cobblestone Press. In honor of the holiday (Valentine's Day not Christmas) I've got the ultimate V-Day gift for a picture.
Now, to the blogs I love. I've added some new ones and tossed out others. Not all of these blogs are updated daily, but I love them anyway.

Crystal Jordan's Blog This has been my favorite ever since I started blog hopping. Crystal is clever, snarky and a friend of mine. It's rare to find all three. I lurrrrrrrve her.

Kelley Vitalo's Blog
I love Kelley's blog because she gives both personal stories and professional exerpts. She's always interesting and I visit her as often as I can.

Shelli Steven's Blog No one can tell a story like Shelli. Not to mention the funky pictures she's started putting on her blog. This is one of my daily visits. LOVE Shelli.

Tawny Taylor's Blog Tawny has some of the most cutting edge industry information and shares is gladly. She's generous with her praise and isn't too snarky. Plus, she isn't the same every day. There's personal stuff, professional pimping and information I've been able to use. She rocks.

For just plain weirdness....The Writer's Widower Blog This is the husband of a writer friend of mine (who shall remain nameless) and he has a blog. Check it out. It's very fun and he's talented in his own right. We lurrrrrve you, Writer's Widow.

Here's a new one I just discovered. Glamorous Redneck With this one, visit some of the other places she has listed on her blog. She's fascinating. I love this blog.

And finally, Stacy Holmes's Blog This blog is one of the most fun blogs I've ever seen. With "Escape The Mondayn" and "Tuesday Wordflirts" she sucked me in and I can't get away. Stacy is also one of the nicest people I know in the industry. And her blog is a blast.

If I can just quit blog hopping, I'd probably be published by Avon by now. As it is, I have five contracted, so no complaints.
What are your favorite blogs?

Christmas Cookie Weekend














Most people don't believe that we make as much as we do. Here's the final count.
79 dozen cookies. (Sugar cookies, Ginger cookies, Gingerbread men, Raisen Rocks, Oatmeal-Coconut macarooons and Kiss Cookies)
4 batches of Almond Roca
4 batches of Fudge (THAT was almost a disaster. Long story. Let's just say that reading the fine print on a recipe is always recommended.)
2 batches of Chex Mix (Little clumps of Chex, sugar and Karo Syrup. OMG. It's so good. What diet?)
4 batches of Friggin Marshmallow Thingies. (This is the name they're given. Marshmallows, melted caramel and rice crispies. I've managed to avoid those so far.)
1 small bottle of Crown Whiskey.

We were relatively restrained on the alcohol use this year. We played Christmas music ALL weekend. In fact, we took a break Saturday morning to go and purchase more. (Brad Paisley's Christmas album ROCKS!!!!!)
Is it crazy? Heck yeah! Do Michelle and I have a blast doing it? Absolutely. It's a tradition. She and I have done it here, at my house, for three years now. Before that, I used to help her at her house (for the last ten years). It's one of my favorite Christmas traditions.
What is your favorite tradition?

Chatting At Ebook Love
Here's my cover for my upcoming release with Cobblestone Press. Isn't it gorgeous?
Cobblestone is chatting at Ebook Love and I'm one of the authors giving away one of my books.
So, I'd like to give you all a little "taste" of "A Taste of Christmas".


"So do I. So why haven't I met you before? My family specializes in socializing with other rich winery owners. The Durst family is well known, so how have you avoided me?"

Eying him suspiciously, she realized the charm that usually turned her off was lowering her guard. "Didn't you know? They only let me out twice a month. I'm the crazy sister. They've kept me hidden in the attic for years." She tried to look mysterious, but it must have failed because he laughed.

"That would explain it." Something about the way he was looking at her made her blood flow faster. Heat rose in her face. To hide her discomfort, she took another sip of her beer.

"I have the codes and passwords for the website written down for you in my purse." She reached for her black bag on the bar.

"I told you." He looked out at the large screen TV in the corner of the bar. "That's not why I called."

Tabitha looked at his profile. He had a perfect Roman nose, gorgeous chocolate brown eyes, and he was tall and good looking. Why would this guy call me? Don't ask. Who needs that kind of rejection?

There was one swig left of her beer. She drank it, put the bottle on the bar, and shrugged. "Well, if you're not going to tell me the real reason, I'll just go home and go back to bed."

She stepped away from the bar and found a wall of chest in front of her. Tipping her head up, she looked at him. "What's the idea?" There was a scent of pine and wood about him. It went to her head and made her dizzy.

"I want you to ask me why."

"No."

He looked down at her. "Why not?"

"Because then you'll tell me."

"That makes no sense." Jim shook his head.

God, she wanted to run her fingers through his hair. But instead, she simply said, "See? You're better off if I leave. I make no sense."

Tabitha went to move, and he blocked her again. "Tell me why you won't ask me."

"Why won't you just tell me?" She countered.

The sudden smile that spread across his face was not reassuring. "Why don't I just show you why I called instead?"

Before Tabitha recognized his intent, she found herself in his arms and getting the pants kissed off her. Almost literally. She forgot she was in a bar. She forgot Jim was a virtual stranger. She forgot everything but those fantastic lips doing wonderful things to hers. Somewhere in the background she heard hoots, whistles, and a couple of people yelling, "Get a room!"

I'll be checking in at Ebook Love today and this will be part of my contest. Hope you all enjoy. The winner will win a copy of my other Christmas release, "Yule "Tied".



Ebook Love

Tawny's Contest!




Tawny Taylor is proud to announce the launch of a new vampire series titled TWILIGHT'S POSSESSION in 2007. With it comes a new website, www.TwilightsPossession.com, and a new myspace, www.myspace.com/twilightspossession.

To celebrate the new series, and a second piece of good news--the official acceptance of Real Vampires Don't Drink O-Neg by Kensington (Sept. 2007)--Tawny is holding a contest.

The prize: A Vampire Lover's gift basket full of terrific paranormal romance novels, a tote to carry them, and (not shown) a few necessities to help the winner score a sexy alpha vampire of her own.


To enter: email tawny at tawnytaylor@sbcglobal.net with the name for the secret brotherhood of warriors AND their creed copied and pasted into the body of an email (no attachments will be opened). To assure your entry in the contest, please put the words Vampire Lover Contest in the subject line. And please, don't forget to include your name and contact information.

No purchase necessary.

A BONUS: Extra chances will be awarded to anyone who posts this announcement (including the live links below for Tawny's websites) on his/her blog and/or myspace. One extra chance per post, up to a maximum of five extra chances per person. So post away! Please! To receive the extra chances, please send a link of the live post in the body of your email, along with your contact information.

Entries accepted Dec. 1 through Dec. 31 (11:59pm, Eastern US Time) The drawing will be held on New Year's Day and the winner will be announced on Twilights Possession by 5:00 PM Jan. 1, 2007.

Thank you for letting me share my good news, and thank you for your continuing support. You have no idea how much it means to me.

Finally, good luck in the contest!

Tawny
Tawny Taylor's Erotic Romance with Sassitude
Tawny Taylor's Twilight's Possession

This is one of the erotic romance authors that inspired me to try my hand at writing erotic stuff. She's awesome. Give her a try and check out her contest. Her backlist is FABULOUS. I've bought a lot of her stuff and I've never been disappointed. Here's a chance to win some of it.
What author inspired you?

Christmas is coming!!!!
It's a little blurry, but this is our Christmas tree. We LOVE Christmas here.
On Sunday we went up into the mountains and cut our own tree. The kids played in the snow and Daddy wielded a chainsaw. I made snow angels and got pummeled by little dirt faced okie boy snowballs.
Heaven.
It's kind of a funky tree, but we love it.
How about you? Did you get your tree? Do you have a favorite ornament that has to go up?

Today Is The Day!!!!
My very first release! It seems fitting that my first release would be a Christmas story. I love Christmas.Please Buy It Here

Don't forget that Crystal Jordan's book is there too. For only $3.00 you can have them both. Check out the other two great books in my previous posts. Tis the season to give great books!
Oh, and I won a FABULOUS book by Cindy Spence Pape called "Cowboy Christmas Bride". It rocks. I'll post about it next. It's totally worth checking out and buying.
My question for you today is do Christmas stories get you in the holiday mood? That's why I love them. How about you?


My Website
Home
Blog
Biography
News
Links
Bookshelf
Coming Soon
Contact

My Books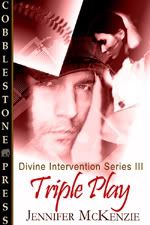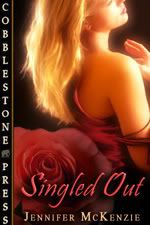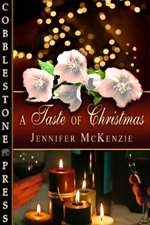 Coming Soon
Favorite Blogs
MySpace Place
My Picture Blog
Carrie's Blog
Dayna Hart's Blog
Diva Crystal's Blog
Novelty Girls
Deadliest Reports
Diva Shelli's Blog
Diva Loribelle's Blog
Diva Sela's Blog
Diva Laura's Blog
15 Minute Date Blog
Evil Editor's Blog
Writer's Widower
Glamorous Redneck
Jenna's Blog
Paula Graves Blog
Stacy's Sensibly Insane Blog
Diva Lisa's Blog
Diva Diana's Blog
Tracy Montoya's Blog
Diva Babe's Blog
Julie Cohen's Blog
Nathan Bransford's Blog
Toni Sue Versteeg's Blog
Favorite Sites
Harlequin Romance
The Manhattan Transfer Website
Robert Cray Website
Romance Writers of America
NASCAR
NCWSA
CMT
Whiskey Creek Press Torrid Romance
Larsen-Pomada Agency

Click to join SweeterRomanticNotions
Thursday Thirteen Sites

About Me
Name:: Jennifer McKenzie Location:: California
Archives
April 2006
May 2006
June 2006
July 2006
August 2006
September 2006
October 2006
November 2006
December 2006
January 2007
February 2007
March 2007
April 2007
May 2007
June 2007
July 2007
August 2007
September 2007
Credits
image by suzi ninemillimetre
design by maystar
powered by blogger