In Honor of my Anniversary......A Joke.


I have to admit that this was hilarious. Happy Anniversary. After seven years of marriage, Joe knows why this strikes me as funny. He's used to me. We were married January 28th, 2000 and through a lot of stuff, we stick by each other.

Plus, today is the release of the ten Valentine's Day books from Forbidden Publications. Hope you all love them.





A little word about a book I read.....
Another Time, Another Place
by T. Sue Versteeg


First of all, let me say that I LOVE Toni Sue. She's a Diva and has always been there to leave a message or say the right thing. So, when I saw her book up in print, I snagged it.

The premise? Dreaming of a castle, Tessa Garrett jumps at the chance to visit it when her best friend finds it on the internet. Her visit becomes a nightmare when she falls and wakes up in 13th Century England with a gorgeous man who resembles her ex boyfriend, but isn't. Eric Hadley finds Tessa dazed on his land and takes her in. The connection between them is instant, and dangerous.

Now, I'm picky. It seems crazy to me that a modern woman could go back to the 13th Century and survive. And Ms. VerSteeg doesn't make is easy on Tessa. I think she did a wonderful job of introducing us to what 13th Century England may do in the face of a modern person and their language. The twist and turns of this story to reach the happy ending (which you wonder throughout the whole book how the author is going to pull it off) were so layered and complex, that when I reached the end of the book, I was fully satisfied.

Ms. VerSteeg has given me a treat. It's emotional and funny and suspenseful all at the same time. Even the very end gives a warm feeling (no spoilers). The theme of forgiveness seems to thread through the book and the author gives every character the growth in the book to make it a terrific read.

I highly recommend this book. I found it really difficult to put down.

Five Dancing Hobbes for you Toni Sue.



The Romance Divas Challenge. I'm Ready!
Dayna Hart made me a beautiful cover for my RD challenge short story.
I decided to tell the story of Thomas, the Guardian Angel from "Singled Out". He plays a part in the Divine Intervention series I've planned. "Singled Out" is part one (and based on my best friend WHO by the way has had two dates with a very cute cowboy in the last week) and I've submitted "Double Trouble" to Cobblestone. "Triple Play" is planned but not down on paper.....or screen.....or whatever.
"None Too Soon" explains how Thomas became a Second Chancer Guardian Angel.
It also pairs him up with his heavenly soul mate. Best of all, IT'S FREE! On Febuary 14th, a gaggle of Divas will be posting their free stories for everyone to try. I can't wait.
I'll have two. This one for Jennifer McKenzie and another one for my pen name. This is a perfect opportunity to get a taste of what the Divas are writing.
If you're like me, you'll eat up their back list once you read them.
I'm soooooo excited! I'll have a list (hopefully) of the participating Divas and how to get their stories. Some will be easy (cut and paste from their blog) and some will be downloads (like mine in pdf). Be looking for it.
Romance Divas, taking over the world, one love story at a time.

Just For Crystal


Crystal was making fun of my Bing Bing frog obsession. So, just for her, I've put this on my blog. I love this one.

The Second Wereplanets Is Finally Out!!
Varad Mohan is the king of all weretigers, ruler of the planet Vesperi, but even kings have their share of tragedy. With the death of his infant son, his marriage with Mahlia seems to hang in the balance. When her mating heat makes it impossible to avoid confronting their cooling relations, they have to cope with the loss of their child, and turn to each other for the solace they've denied themselves. A king and queen can never show weakness, but can they learn to depend on each other?
You Can Buy It Here


Crystal Jordan has done it again. This one is hard hitting and emotional, with all the fabulous world building from the first.
She rocks.

I'm Filling In At Shadows Of Passion


Shadows Of Passion

needed me to fill in today, so I'm posting over there. A quick up date on everything. I've gotten to almost 26K on "Legend Of Fools". It's going pretty well, though I'm having one of those "I should've never been published" periods. *rolls eyes*. I'll get over it.
Come and show me a little love.

Here's my cover for "Singled Out"
Here's the cover to go along with the contest. Michelle has already gotten one Valentine's Day card (thanks Stacy) and she LOVED it.
It's pretty simple. Send Michelle a Valentine's Day ecard and the one she loves the best will win a $10 gift certificate for Cobblestone and a $10 gift certificate for the Wild Rose Press.
Anne Caine did a FABULOUS job on my cover. She's brilliant.
I wanted to do a contest where I had all my online contacts searching for a single man between the ages 35-45 and get him in contact with Michelle. LOL.
Let's face it, I want her to have a happy ending.
Do you set people up or avoid it like the plague?

A Contest For St. Valentine's Day
For St. Valentine's Day, I'm releasing "Singled Out" which is a story based on the life (as we'd wish it to be) of my best friend Michelle. (See the picture? That's her).
Here's the contest. Michelle needs some Valentine's Day cards. If you write Michelle a Valentine's Day card that she LOVES, you'll win a $10 gift certification from Cobblestone Press and a $10 gift certificate from The Wild Rose Press. That's right. For a little moment at the computer and some imagination, you can get $20 worth of free books!
Let me give you a little description of my best friend. She wears cowboy boots to her job of (as she calls it) "slinging beer". She's independent, strong and has a great snarky sense of humor but she wants a guy to open her door. Her MySpace title? "I don't eat meat cause I'm a vetrinarian". She loves Monty Python, Tommy Boy, Happy Gilmore and Princess Bride. Oh, and Office Space. She thinks "camping" is room service. Yet, she's gone camping with me and she didn't bitch hardly at all. LOL. She's awesome and she's the best friend ever. So, I wrote her a happy ending because she deserved it. And she does.
So be looking for "Singled Out". I'll have the cover soon (thanks Anne) and I can't wait to see this one out.
So send the cards to jenmckafg@hotmail.com and I'll be showing them to Michelle. Make them funny. Make them romantic. Make them exciting. Want to know more about Michelle? She's on my MySpace page. Check it out.
Who is your best friend? Would you write him or her a happy ending?

Real Life Intrudes (Rant Below Proceed With Caution)
Sooooooo, Michelle and I made a decision to quit smoking on Monday. Bad idea. On Sunday, I took my husband to the emergency room and he was diagnosed with new onset diabetes. Complete with open sore that looks really nasty. THEN, both my boys were sick yesterday and I was home with all three of them.
I'm not doing too well. I've stressed and bitched and wanted to throw things.
I've been distracted, angry, frustrated and a host of other things. Not exactly conducive to creative writing. I have a "big one" that I want finished so I can query an agent. I've got 12K written and I'm aiming for 100K. I have things that have slipped through my fingers as I'm spinning my wheels.
Is this normal? Who knows. All I know is that just when I think I'm finally getting somewhere, my real life is rearing it's ugly head. I want to hide away and pretend that my only job is to keep breathing.
*Deep breath*. I've had a few cigarettes. Not as many as usual, so I guess that's something. You want to know what made me feel better? I watched all three of the Lord Of The Rings movies. Sometimes, when I think I have a ton of stuff piling on top of me, I can watch other people (albiet fictional characters) who have more and more piled on top of them and feel as if I don't have it so bad. I don't have to watch people I love dying violently or fight, even when hope is completely gone. All I have to do is not smoke for today, get my husband's health back on track and pray a little more. Seems pretty insignificant in the face of other world events around me.
Still, it really puts a cramp in the writing. Being really tense and distracted doesn't make the story flow or the words show up on that blank, blinking page. It colors my attitude as I write.
I did put some of my bitchiness to work on a secondary character. That gave my heroine a little snark she hadn't shown before. Now, if I can just channel all this excess crap and get it on paper, perhaps I can make this work.
What do you do when Real Life intrudes on the writing? What gets you back on track?

I'v Bought Them and Loved Them
The love after loss story, How About Tomorrow, is the first Rosette I contracted with WRP. My writing friends at Romance Divas helped me tweak it until it was just right...and then Leeane fixed that to perfection.

Jack hasn't been out on a date since his wife's death five years ago. Even his teenage daughter thinks it's time he finally go on a blind date brokered by his sister-in-law. Jack's unsure, until he meets Maria. She's as timid as he is at first, but the more they talk the more they realize they should see each other again, and again.



My English Tea Rose, In Silhouette, was so exciting to write. I work mainly in contemporary romance, so stretching into Regency was difficult, but rewarding! I dedicated this story to my critique partner, American Title II finalist Suzan Hyssen. She writes intelligent, comedic Regency romances, when she is not busy with law school.

James Darby is bored by the ennui of country life, fervidly anticipating his return to London. When he spies Miss Hughes entertaining herself by cutting silhouettes at a party he's captivated by her talent, and charm. How can someone so fascinating survive in a place so tedious?

In February, another of my stories will appear in the Dreams & Desires charity anthology. Keep a look out for my Last Rose of Summer Rosettes...they are coming soon!

Jenna

A Soldier's Love
RELEASING JANUARY 1, 2007!






A SOLDIER'S LOVE begins in the fall of 1941 just prior to the attack on Pearl Harbor and America's entry into the second world war.



Ron Miller, an army officer on reserve duty while attending graduate school at the University of Maryland, is nursing a broken heart and cautious about falling in love again. Katie McNeill, a shy but beautiful clerk at the school, harbors a crush on Ron but is bewildered by his apparent lack of interest in her.



Tired of "sitting at home alone on Saturday nights," she becomes involved with a young student named Jimmy Garrett. Jimmy is a spoiled young man from a wealthy, dysfunctional family, who just happens to be sharing an apartment with Ron.



Sunday, December 7 will change all three of their lives forever when innocence is lost and the future becomes uncertain.



Available in trade paperback & ebook. For more information, visit A Soldier's Love Homepage

One of the things Lucinda's writing has always done for me is protray courage. She, herself, is a courageous person and writes a genre that didn't even have a slot for the longest time.
But now, her brand of courageous romance has a place. Kudos to you Lucinda.
AND it'll be in print. I'm in on that one.

I Read Something Important To Me
Normally, I don't mention much about my personal life. I try and keep it seperate, but I read something that really meant a lot to every aspect of my life.

"I believe my life is built upon layers of little everyday accomplishments. When I think this way, setting goals and taking small risks becomes nothing more than a daily striving to make my life better. Taking some tiny action each day can be much more effective than weeks and months of inactivity followed by a frenzied attempt to make radical changes overnight. It certainly leaves me more serene. When I face a new challenge, I try to take my beginning wherever it may be and start from there.
"No one can make me change. No one can stop me from changing. No one really knows how I must change, not even I. Not until I start. I will remember that it only takes a slight shift in direction to begin to change my life.
"The journey of a thousand miles begins with one single step" (Lao-tse)"
(Courage To Change p.3 )

I don't know if that means anything to anyone else, but it gives me the strength to continue. Even when I'm discouraged with my own writing or accomplishments, I can get to work and not worry about the "big picture".
What "slight shift" do you want or need to make?

Another Great Book from Cobblestone
Up In Flames by Ember Sinclair
Available January 12, 2007
from
CobbleStone Press
www.embersinclair.com
Blurb
Kat Ashbrook has two things on her mind—catching a murderer
and sexy new boss, Connor Mercer. She never expected his
come-hither looks, but she's betting she can resist if she keeps
her mind on the job. Too bad a prank leads to her surrender and
possibly their deaths.
New Year's Goals
I'm not big on New Year's resolutions. For one thing, I'm notorious for putting WAY too much pressure on myself to make them happen. There's been a ton of discussion in my house these days about goals for the future. I'm already making plans to go for broke on my writing career.
So, as my blog readers, you can ask me every once and while "By the way, Jen, didn't you say you were going to......"

1. Plot, outline and finish my 100K project currently titled "Legend Of Fools". It's a romantic suspense. It's my big goal this year to get my word count into single title category.

2. Submit and aquire an agent. This will be tougher, since agents typically want to work with authors who write higher word counts. Since I'd love to have a Harper Collins or Berkeley Contract, I've got to show I'm willing to shoot for more.

3. Continue to submit short stories to maintain my relationship with the three publishers that I'm with currently. I think this will be challenging, since I'm easily diverted from the bigger picture. The trick is to continue to publish, without sacrificing #1.

4. Promotion. This is a biggie too. I'm trying to set up a book signing here in my neck of the woods. My book "Heart of the Storm" comes out September 07 and I want to be ready to make a big splash. It might be in a little pond, but a least I'm making ripples.

5. Make my career pay. Normally, I'm not all about the money, but I'd like to do a little more than break even in '07. This requires all the previous goals to be met. To make my writing career pay, I have to submit. To submit, I have to write.

To sum up, I have a lot of work to do in '07. Hold me to it.

And the inevitable question? What are your goals this year?


My Website
Home
Blog
Biography
News
Links
Bookshelf
Coming Soon
Contact

My Books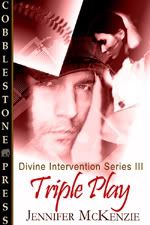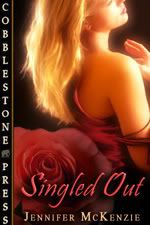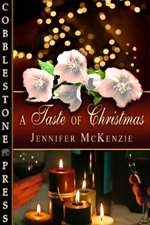 Coming Soon
Favorite Blogs
MySpace Place
My Picture Blog
Carrie's Blog
Dayna Hart's Blog
Diva Crystal's Blog
Novelty Girls
Deadliest Reports
Diva Shelli's Blog
Diva Loribelle's Blog
Diva Sela's Blog
Diva Laura's Blog
15 Minute Date Blog
Evil Editor's Blog
Writer's Widower
Glamorous Redneck
Jenna's Blog
Paula Graves Blog
Stacy's Sensibly Insane Blog
Diva Lisa's Blog
Diva Diana's Blog
Tracy Montoya's Blog
Diva Babe's Blog
Julie Cohen's Blog
Nathan Bransford's Blog
Toni Sue Versteeg's Blog
Favorite Sites
Harlequin Romance
The Manhattan Transfer Website
Robert Cray Website
Romance Writers of America
NASCAR
NCWSA
CMT
Whiskey Creek Press Torrid Romance
Larsen-Pomada Agency

Click to join SweeterRomanticNotions
Thursday Thirteen Sites

About Me
Name:: Jennifer McKenzie Location:: California
Archives
April 2006
May 2006
June 2006
July 2006
August 2006
September 2006
October 2006
November 2006
December 2006
January 2007
February 2007
March 2007
April 2007
May 2007
June 2007
July 2007
August 2007
September 2007
Credits
image by suzi ninemillimetre
design by maystar
powered by blogger