I've Officially Moved!!!!
The merger is complete and Jennifer McKenzie and Jennifer Leeland are now the single entity they should be. LOL.

Come on over and check out the new digs.

Jen's Hot And Sweet Blog

In Preperation For the BIG MERGE....
My Thursday Thirteen's will be at my new blog. Check it out.
Jen's New Blog
Be checking back for a big contest I'll be holding in celebration of combining my two "personalities".

Happy TT everyone.

Whiskey Wednesday--The Day After
I thought a couple of times about posting yesterday for September 11th. But somehow, I just didn't have anything to say.

I didn't know anyone at the WTC, or Flight 93, or the Pentagon.

I don't have anyone close to me in the military.

I'm one of the many who often shoots my mouth off with no investment except higher gas prices and nastier politics.

My Grandmother remembers when war meant rubber drives, paper drives and food coupons. When gasoline was rationed. When women went to work in factories to build tanks and make bullets. When the lists were read of thousands of men who died who were neighbors, friends, relatives. Now, it's so easy to be cushioned from the impact.

We bitch about the price of gas, but we can fill up as long as our wallets can handle it. We complain about the state of politics and get all mealy mouthed about The War. We listen to talk shows on t.v. and shake our heads.

So, when I thought about posting about That Day, I couldn't. It wasn't in me. There are so many others that have the right to speak when I don't. As an American, I have my opinions. That's all they are. Opinions.

I can't watch the documentaries or the funerals. Every time I hear "Amazing Grace" played on the bagpipes, I think of those processionals, one after another.

Then, I remember that my father's funeral, almost exactly a year later, also played "Amazing Grace" on the bagpipes. And every time a flag is presented to a grieving relative I remember my second cousin in his Navy Whites presenting the flag to my mother.

It's as if they're inseparable for me.

Anyway, a toast! To all who lost their lives on September 11th, 2001. To all who lived with the devastating aftermath of losing a loved one on that day. And to all who continue to fight in a world that struggles to remember.

*raises glass* To you.

Vote And Win
Vote for

THE DOLL VIOLINIST

and Win Prizes!

Mayra Calvani's story,

THE DOLL VIOLINIST

, is a finalist at the ABC's Children's Picture Book Competition!

What makes this competition different is that while the finalists are chosen by judges, the winner is chosen by online public vote. In other words, YOU the reader, get to choose the winner—that lucky author & illustrator team who will walk away with a publishing contract!

The Doll Violinist is a heart-warming Christmas tale set in Victorian Europe and features illustrations by talented artist Amy Moreno (www.amycullingsmoreno.com).

To view the finalists in the competition and vote for Mayra's story, please visit the competition website at http://www.ABCbookcompetition.org . The two week voting period starts September 16, 2007 and will continue through midnight September 30, 2007. The winning author / illustrator team will be announced October 8, 2007.

People who vote for The Doll Violinist will be automatically entered in a drawing and prizes will be as follows:

1st Prize: An enchanting antique doll in Brussels lace
2nd Prize: $50 Amazon gift certificate
3rd Prize: Beautiful zirconium & sterling silver ring (size 8)
4th Prize: A print copy of Mayra's latest paranormal thriller, DARK LULLABY
5th Prize: A print copy of ANGEL IN A BUBBLE (children's picture book)

All you need to do is vote for THE DOLL VIOLINIST, then send a message to

mayra.calvani@gmail.com

and write 'You got my vote' on the subject line. You must send a message in order to enter the drawing, so please don't forget! The winners will be announced on Mayra's Secret Bookcase (http://mayrassecretbookcase.blogspot.com) on October 1st, 2007.


But there's more!

Illustrator Amy Moreno will be giving a grand prize as well: A customized pen and ink rendering of your house, created from photos provided by you! Final art will be created on 11" x 14" acid-free paper.
To see samples of Amy's pen and ink renderings go to her website at www.amycullingsmoreno.com
If you want to be eligible to win this rendering, make sure you send a separate message to Amy (besides the one you send to Mayra and after you have voted for THE DOLL VIOLINIST), at

dearlake@aol.com

and write 'You got my vote' on the subject line. The winner will be announced on Amy's blog, Cachibachis (http://cachibachis.blogspot.com) on October 1st, 2007.
Support Mayra and Amy and help them walk away with that publishing contract!

Here's a little bit about the book.

The Doll Violinist

The Doll Violinist takes place in Christmas in the late 1800's and it is about a little orphan girl named Emma who escapes every day from the orphanage to look at a doll that resembles her mother, who is now in heaven. The doll is holding a violin, just like Emma's mother used to. Emma dreams of becoming a violinist one day, just like her mother.

The tale starts five days before Christmas with five dolls on display, and, to her dismay, as Emma comes to the shop each day, one doll is sold. On Christmas Eve, the doll violinist is the only one left. The story also has another character, the stern and seemingly cold shopkeeper, who doesn't want Emma standing by the shop. Of course, there's a reason, and it's not that Emma is dressed in rags, but that Emma reminds her of her own dead daughter. The story has a quiet mood while offering suspense, and of course, it has a heart-warming, happy ending.

To learn more about Mayra Calvani visit her at mayracalvani.com

I Love Research
See what I get to watch?











Thirteen Reasons I Love Sequels















I'm writing a sequel to "Heart of the Storm" that features some recurring characters and the Alaskan Coast Guard.

I love sequels. Imagine "Star Wars" with out "The Empire Strikes Back" and "Return Of The Jedi". "The Mummy" with out "The Mummy Returns". Oh sure some sequels suck, but I absolutely love books that keep me in the same universe, or following the same character. "The Sword Of Shannara" Series. Miss Marple, Amelia Peabody, Miss Silver, the Dragons of Pern. I love sequels. Hence the reasons I love to write them.

So, in honor of my current dash to write the sequel for "Heart Of The Storm",

I give you thirteen of my top favorite sequels

.

1. The Elfstones Of Shannara by Terry Brooks
Second in the Shannara series, it was followed by one of my favorite Shannara books "Wishsong Of Shannara".



2. "Heretics" of Dune" by Frank Herbert


This was a long awaited sequel to "The God Emperor of Dune". I love the book "Dune" but the sequel "Dune Messiah" wasn't a favorite of mine. And "God Emperor" almost ended Frank Herbert gracing my bookshelf. But then, "Heretics" came and was followed by "Chapterhouse" which ended up being one of my favorites. The world building in Frank Herberts universe has endured. His son has taken up the mantle and "Dune" was such a great series, I've given Brian Herbert a try. And I wasn't disappointed.



3. The Mummy Returns


OMG, you just can't beat Brendon Frasier when he's being yummy and he is YUMMY in this one. Plus, my kids love this one because of the O'Connel's son. It ROCKS.



4. The Last Crusade


The Holy Grail, Nazi's and Sean Connery. What's not to like? Oh wait Harrison Ford as Indiana Jones. *Happy Sigh*



5. "Gaudy Night" by Dorothy L. Sayers


Sequel starring Sayers awesome sleuth Peter Whimsey, this is the second book of a foursome starring Whimsey and his future wife, Harriet Vane. This book is worth them all.



6. "Night Games" by Christine Feehan


This series about genetically enhanced soldiers is brilliantly done by Feehan. The first one "Mind Games" was good, but my favorite sequel is "Night Games" with the VERY sexy Gator. A must read for paranormal readers in my mind.



7. "Between Good And Aeval" by Dayna Hart


Forgive my spelling. This sequel to "Go Between" is AWESOME and since I've had a sneak peak, I can say that. It's been contracted, so next year we'll finally get to see Dell and Claire have their "moment" if you know what I mean (nudge nudge wink wink)



8. "In Heat" by Crystal Jordan


The second in the Wereplanets series, this is an emotional and fantastic read by one of the best. I strongly suggest them all, though I think "In Smoke" is my favorite.



9. Return of the King


The last of the LOTR movies. My favorite and the most played in my house. We love it.



10. The Matrix Reloaded


This was enough to make me grateful for sequels. All I wanted after "Matrix" was MORE. And they gave it to me.



11. "Visions Of Heat" by Nalini Singh


Long awaited sequel to "Slave To Sensation", this continues the psi series and I LOVE it. VERY cool and the third one is out now.



12. "Eternal Nights" by Patti O'Shea


Patti O'Shea wrote "Eternal Nights" as a sequel to "Ravyn's Flight" which I've not read (but is on its way as we speak for my birthday from Amazon). The thing is that "Eternal Nights" has made me a Patti O'Shea squeeing fan girl. The next book that I read by her was "In The Midnight Hour" which was AWESOME!!!!!!!!!!!



13. "Death In A White Tie" by Ngaio Marsh


This book is the second in a four book series about the romance between Agatha Troy and Inspector Alleyn. FABULOUS job and this one is the best of the four. Of course, I think Ngaio Marsh is brilliant.

I didn't mention Patricia Wentworth and her Miss Silver series that had recurring villains and distantly connected heroes and heroines. Or Agatha Christie and her Miss Marple. Or one of my favorites Elizabeth Peters and her engaging and hilarious Amelia Peabody.....there are so many.
So, I love sequels and I love to write them. What are your favorites sequels?









Whiskey Wednesday--Darn Redneck!!!!

You know the age old question "How do you get your ideas?". We all want to get inside a writer's head and be apart of that creative process. Well, the Redneck got inside my head and now I'll need a bottle of whiskey to deal with it!!!!!

Many of you know that "Heart Of The Storm" has a sequel in the works. The premise for "Eye Of The Storm" is darker, filled with angst. I've been worried that the mood of the sequel was too dark for the series. The Redneck, who is very excited about my book release, started asking questions. Why is Pogie retired in "Eye of the Storm"? What happened to make him hang it up? What creates the dark mood for "Eye" in the first place? And then the fateful words. "It sounds like you have another book between the first one and "Eye of the Storm"."

I wanted to kill him.

And he's right. There are some unanswered questions in "Heart Of The Storm" that I'd like to answer. So, "Edge of the Storm" is created. Also set on The Bering Sea, this one features the Coast Guard and crab fishing, but there will be more scenes on land. Alaska is so much more than fishing and the oil pipeline. Pogie will be a recurring character in this one as well and will become a captain unexpectedly.

I have a lot of work to do. I've set a goal of 50K by the end of September. I'll let you know how it goes.

Darn Redneck.

HAPPY BIRTHDAY TO ME!!!!


I have had a WONDERFUL birthday. My Book

released on Saturday and I was nervous and excited all at once.

The Redneck bought me Kim Richey's new one

"Chinese Boxes"

which ROCKS!!!!!!!!
But the best gift which both the Redneck and my very best friend Michelle went in together on was two tickets to see THE MANHATTAN TRANSFER

.

Never heard of them? Check them out HERE

I've loved them since I was thirteen. I saw them live once about eleven years ago...alone and I had to leave early. This time, the Redneck is going with me. The sacrifices he makes for me.
Oh and one of the most important gifts? A $30 gift cert from Borders!!!! From the in-laws. SWEEEEEEEEEEET.
I love birthdays.

Enough About Me! Something For Everyone
Want a little sugar? Read "Wanna Make A Bet"



Available NOW...



Wanna make a bet?
When aspiring artist and purposefully single Sophie Montgomery mutters those four fateful words, her sexy neighbor, Jay Coltrane, pounces on the opportunity to prove she's not as immune to him as she thinks. Before she knows it, Sophie finds herself not only betting against a seduction, she's betting against her own ability to keep her dreams intact and a certain luscious landscaper out of them.




What people are already saying:

"Lay down your money and let the dice roll, because Wanna Make a Bet is a sure thing. From a drool-worthy hero to an adorable bulldog with a thing for monkeys, this book will hook you in with its depth of characters, humor, and sizzling sensuality. I cancelled dinners and was late for appointments, all because I had to know whether it would be Jay or Sophie who won the bet. Stacy Dawn is a talent and I can't wait for her next novel!"
-Bronwyn Storm

Want A Young Adult book for a Niece or Nephew?



ANGELIC VOICES by Deb Logan


Check it out! Deb's latest story looks great on the
Climbing Rose
page.
ANGELIC VOICES by Deb Logan
Rating: Sweet
Length: Rosette
Price: $1.50
Genre:
Contemporary YA
Twelve-year-old Deanne Lawyer has a beautiful voice and a problem—her choir director, Mrs. Davis, just reassigned her descant solo to Sucky Susie Emerson! Deanne will have to use all the wiles her life as the little sister of five brothers has given her to reclaim her rights in time to wow the director of the adult choir for the annual Easter Cantata. Better watch out, Susie. Deanne is on a mission!
Or Something Hot To End Your Summer With?
SUITE SEVENTEEN - Portia Da Costa
Acting purely on instinct, I coil my arms around him. I can't believe this is happening and I can't believe what I'm doing. This new, different, impatient me takes the initiative and presses her tongue against his lips, demanding entrance.
He laughs, the sound deep and rough in his chest, and he admits me. Then a second later, it's like he throws a switch and he takes total control.
When vibrant, forty-something widow Annie Conroy espies her new neighbours Maria Lewis and Robert Stone having kinky sex in their back garden, she decides it's time that she too woke up and smelt the erotic roses. And where better to begin her daring adventures than the luxurious Waverley Grange Country Hotel, and its hidden den of iniquity, the chintz-clad but wickedly pervy Suite Seventeen?
Under the stern but playful eye of exotic master Valentino, Annie quickly discovers the shocking hidden depths of her own sensuality, and surrenders herself body and soul to his outrageous games of power. But when the Waverley's entire future hangs in the balance, and Annie has the means to help save it, dare she gamble on going one step further… and giving her heart to the mysterious man who's come to control her?
"...this deliciously seductive story... is hard to put down" ~ Romantic Times, Four and a Half Stars, Sept 07
'Suite Seventeen contains all Portia's trademark treats from the arousing narrative, a wicked blend of deviant episodes, and an undercurrent of pragmatic and poignant romance.' ~ Ashley Lister, Erotica Readers and Writers Association
'I am grinning from ear to ear having savoured every last dripping word...' ~ Ann, poet and blogger
'a cheeky and very lovely read' ~ Madelynne Ellis, bestselling author of A Gentleman's Wager

ISBN 0352341092

Published by Black Lace in June 2007 [UK] and August 2007 [US]

Read an excerpt at PortiaDaCosta.com [NB. excerpt is NC
17 and suitable for adults only.]

Suite Seventeen is available from Amazon.co.uk and Amazon.com
WILD IN THE COUNTRY - Portia Da Costa
Published by TOTAL-E-BOUND - a contemporary super length novel
Available from 6th August 2007
Blurb
There's something in the air...
Flora Swain is a newcomer to the village of Marwick Magna, renowned for the inspiration it provides to painters and poets. Impetuous and strong-minded, Flora is no artist – yet. But there are creative urges within her, she is convinced, and she has come to the country to give them life.
The strange thing is that Flora's urges turn out to be almost entirely sensual. Is it the undoubted physical allure of her new neighbour, Declan McKenna, that's driving her wild? Or the explicitly sexual messages which appear daily in her post? Or could it be that country life has revealed to her an insatiable, highly erotic new self?
Available now from TOTAL-E-BOUND
Today Is The Day!!!!!!!!!!!

Here it is. The release day for my book "Heart of the Storm". Hobbes is dancing to the soundtrack of "The Deadliest Catch" (which you can also hear on Pat's MySpace)
Fireworks are exploding if only in my head.
Why, you ask? You've had book releases before. Why is THIS one so special?
Well, this is a romantic suspense--my dream book--the longest one I've contracted and a story I gave a lot of TLC. It's a story about fishermen, who aren't as easy to find anymore. It's a story about people I know and love. It's a little piece of me going out to you.
AND it's one I can hold in my hands with my name right on the front. Pretty cool!!!!! So, onto the shameless promotion!!!!! YEEEEEEEHAAAAAWWWWW!



Eight years ago, Charlene Henderson had tragically lost her brother, a crab fisherman, to the depths of the Bering Sea. She'd left her home, her family, and the only man she'd ever truly loved and run to California to forget. Forget the pain, forget her love, and leave Alaska and fishermen completely behind her.

Unfortunately Alaska isn't as ready to leave Charlene alone. Some new information on her brother's death has surfaced, and Charlene must return to Dutch Harbor and discover the truth about what had really happened to her brother.

Ethan Shannon has never forgotten Charlie Henderson, but eight years changes a person, and she's not Charlie anymore – she's Charlene, a stuck-up city girl with no love for the sea. Despite his distaste for her new lifestyle, he can't help the feelings he still has for her, and his desire to find out what happened to her brother – his best friend.

Peace for Charlene can only come by discovering the truth. But will she be able to face the evidence she finds, both about her brother and her relationship with Ethan? Or will the answers lead her back into the heart of the storm?



BUY IT HERE



*Happy Dancing*




My Website
Home
Blog
Biography
News
Links
Bookshelf
Coming Soon
Contact

My Books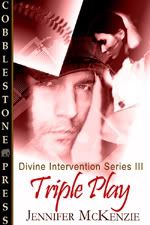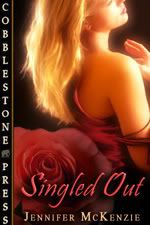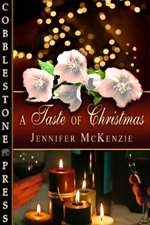 Coming Soon
Favorite Blogs
MySpace Place
My Picture Blog
Carrie's Blog
Dayna Hart's Blog
Diva Crystal's Blog
Novelty Girls
Deadliest Reports
Diva Shelli's Blog
Diva Loribelle's Blog
Diva Sela's Blog
Diva Laura's Blog
15 Minute Date Blog
Evil Editor's Blog
Writer's Widower
Glamorous Redneck
Jenna's Blog
Paula Graves Blog
Stacy's Sensibly Insane Blog
Diva Lisa's Blog
Diva Diana's Blog
Tracy Montoya's Blog
Diva Babe's Blog
Julie Cohen's Blog
Nathan Bransford's Blog
Toni Sue Versteeg's Blog
Favorite Sites
Harlequin Romance
The Manhattan Transfer Website
Robert Cray Website
Romance Writers of America
NASCAR
NCWSA
CMT
Whiskey Creek Press Torrid Romance
Larsen-Pomada Agency

Click to join SweeterRomanticNotions
Thursday Thirteen Sites

About Me
Name:: Jennifer McKenzie Location:: California
Archives
April 2006
May 2006
June 2006
July 2006
August 2006
September 2006
October 2006
November 2006
December 2006
January 2007
February 2007
March 2007
April 2007
May 2007
June 2007
July 2007
August 2007
September 2007
Credits
image by suzi ninemillimetre
design by maystar
powered by blogger