Another Great Book Out!!!



COOKING UP A STORM

, the latest Modern Extra release from Jenna Bayley-Burke is on sale this December!



Available from

Mills & Boon

and

AmazonUK

.

When it comes to relationships, sexy venture capitalist Cameron Price sticks firmly to casual flings. But when relocation takes him to Seattle, his boss insists that finding a girlfriend will be a smart career move.

Still content with snacks rather than a full banquet, Cameron makes a deal with caterer Lauren Brody. To keep the husband hunters at bay, she will pretend to be his girlfriend, and in return he'll hire her to cook at all his corporate events!

But their first kiss is incredibly tasty! Soon, the chemistry between Cameron and Lauren is electric, and their shared passion is threatening to boil over - which isn't part of Cameron's plan!

Jenna is an AWESOME writer. I love her stuff. Give this one a try. I know, I know. How can one afford all the great books out there? They make great Christmas presents.....and then you can borrow them!!!!

"Until Now" by Rose Middleton


UNTIL NOW
Rose Middleton
ISBN 1-59578-292-3

Release date: 27 November, 2006 from Liquid Silver Books

Macy Jackson moved to Melbourne to follow her dream of being an actress, but one stupid mistake turned that dream into a nightmare. Now Macy is wondering whether she made the right choice; her reality of tending bar and pulling beers until the wee hours of the morning stinks to high heaven. But Hell will have to freeze over before she admits that to anyone. Especially the hound dog her brother has sent after her.

When his best friend asks him to bring Macy home, Lucius Devon senses that success will earn him some serious brownie points. Maybe he'll be able to ditch the "town rebel" tag once and for all and win over the town's mayor, Macy's father. But the minute he sees the dangerous curves Macy has developed, his plans go out the window. Miss Smart Mouth has no intention of going back, so perhaps he can uncover her secrets and find something to lure her home with.

Read an excerpt here (url=http://www.liquidsilverbooks.com/books/untilnowexcerpt.htm)

Buy it here (url = http://www.king-cart.com/cgi-bin/cart.cgi?...ct_match=exact)

Rose Middleton is another one of my favorites. She's an Aussie who writes great stuff. Check her out.

Hobbes Is Dancing Again!
In case you were wondering, I was gone all weekend to Sacramento, California. My goal was to meet Crystal Jordan.
How many people get to go and meet with one of their favorite authors face to face? I was nervous (silly I know) and excited. It is kind of weird to meet someone in person that I only know online.
We had a blast. We even talked about writing. She got to meet my nephew and if you want to know about that, you'll have to visit her blog today and see what she said.
I've begun the editing process for my Cobblestone release "A Taste Of Christmas" coming out December 15th. I have so much to be thankful for these days.
As always, I'm over at Shadows of Passion. Please come and visit me.


Shadows Of Passion

My Favorite Author Has Another One
Crystal Jordan, one of my all time favorite authors, has a hot Christmas story out. As she says "It's cheaper than a Latte". I bought it. She's worth it.
It's only $1.50 and it's awesome.
My release date for "Yule "Tied" is December 1st.

Go and give Crystal some lovin'.Buy It Here

Here It Is!!! My First Cover!
I can't wait until this one is available. The edits are finished and a release date is pending.
Now, hopefully my mother doesn't access my blog! This is my erotic pen name and this is a HOT story.
With everything else going on, I'm both excited and nervous about my two releases in December. I wasn't prepared for the mixed feelings around being published. It's scary and thrilling.
For those of you in "the biz" did you have mixed feelings around your first release?

Busy Weekend And SoP
Well, I got really busy over the weekend and didn't get a chance to blog.
Friday, I did my Thanksgiving shopping and had a house appraiser out. Saturday was the birthday party for Dell and Paul. Little kids, pizza, cake and presents were everywhere.
Sunday was the day I finished my second round edits for my Christmas story with The Wild Rose Press. The last round was this morning.
Whew! Talk about CRAZY.
It's Monday, so I'm over at
Shadows Of Passion

As always, I hope you will come over and say "Hello".

Buried In Edits
So, I got my edits back from Cobblestone Press. They're not too bad, but I'm computer illiterate so I had to learn a few things to make the necessary corrections.
With two releases in December (one for Jennifer McKenzie and one for my pen name), I've been contemplating the promotional aspect of "the biz". There's tons of other blogs out there about this stuff. I'll try and be original.
My favorite things to do? Chats. I can chat with the best of them. I enjoy it. My least favorite thing to do? Contests. Not that I don't enjoy contests. I do. It's the "idea" part that escapes me. Trying to figure out what will work is NOT my strong suit. Established wisdom is very contradictory on this one. Some say "Make buying your book part of the contest." Some say "Keep it very simple." My own enjoyment came from a contest given by Dayna Hart for her book "You Again". She had a blog treasure hunt. I went from blog to blog gleaning information, sent an email and won a copy of her book.
The question I have is this. Do you go with thing YOU enjoy when promoting? Or do you go along with what others say "works"?

Glad To Be Home
I had a BUSY weekend. The trip was great. I got very little sleep and came home with a cold. It was all worth it for me.
Getting back into the grove of things is a little tough. I have other "life" stuff going on and they require my attention. Writing is taking a short backseat until it's all settled. Unless, of course, I get more edits to do. They come first.
Like every Monday, I'm blogging over at SoP. Come and visit me.


Shadows Of Passion

More to come over the week.

Signing off for a bit
I'm leaving today on a road trip. I'll be back on Sunday.
In honor of Vetran's Day, I leave you this picture.

To all our men and women, who have willingly walked in the line of fire, I salute you.
May you have relief from nightmares, real and imagined.
May you find peace in your heart, no matter what chaos exists around you.
May the bitterness of war be overcome by the sweetness of freedom.
May the sacrifices you've made be honored all your life.

Happy Vetran's Day to all who have serve and serve us still.

Taking A Day Off
I went on strike today. Some of my edits came back Tuesday, which made me feel all bad about myself. LOL. So, after barreling through them yesterday, I was pretty burned out. Newbie author syndrome.
As a result, I stayed away from my own writing today. I chatted online with a couple of authors and that was the closest I got to "work" today. What else did I do? Well, laundry of course (neverending) and then I did something unusual. I watched a movie.
*gasp*

What? You took two hours and sat on your butt watching a movie?


Yes, you heard me. The TV is NOT my friend usually (well, except for Cartoon Network, which keeps my kids from killing each other.). I watched "You've Got Mail" which I haven't seen in a long time.
This is a joke (that's sort of funny.....but kind of not) between Michelle and I. She and I don't agree on movies. If she likes it, I'll hate it and vice-versa. The only movies we could agree on were Meg Ryan movies. "When Harry Met Sally", "French Kiss", "Addicted To Love" "Sleepless In Seattle" and "You've Got Mail". Two years ago, she bought them all for me for Christmas. We planned on having a "love fest" one night with just the girls.
"You've Got Mail" was still in the plastic wrapping when I watched it today.
Since then, we've found common ground on a lot of things. Monty Python, "Office Space", "In And Out." are all movies we can enjoy together.
She even sat through "Pride and Prejudice" with Colin Firth with me. (THAT'S a best friend. She was even gracious about it.)
So, what do you do when you do nothing? (There's a nightmare sentence for an editor.)

Tagged By Shelli

FIVE THINGS YOU MANY NOT KNOW ABOUT ME.

Shelli Stevens tagged me for this one. I don't know if there's much you all don't know, but I'll try and come up with some without getting TOO personal.

1. I was a total choir geek in High School.
I wasn't just a choir geek, I was in EVERYTHING. I loved it. I even went on to major in Music Education for two years. I still love to sing and now my youngest is showing signs that he's got some serious talent.

2. I grew up in the Napa Valley.
I lived in Napa from the time I was two years old until I went to college at eighteen. My mom still lives there.















3. I didn't have kids until I was thirty-one.
I was married for seven years to my first husband and I really wanted kids. He really didn't want kids. ( I was young and dumb and thought I could change his mind. Der.) There were lots of reasons, but my ex and I parted company (amicably believe it or not) and a year later I met Joe. I had a list, guys. I kid you not. If a guy didn't match the list, I didn't date him. lol. Joe matched the list. Can you imagine my popularity with men when I'd pull out a piece of paper and ask "Do you want to have children?". LOL. Joe and I have been perfect for each other. We were married January 2000 and I got pregnant in Feb. Then 362 days later, I found out I was preggers with Paul. We got it done in a hurry.




















4. I like old movies.
OK, this may seem like a no-brainer, but there aren't too many people familiar with some of the stuff I love. "An Apartment For Peggy" for example. William Holden, Jeane Craine. "People Will Talk" Cary Grant. "The Mad Miss Manton" Barbara Stanwyck. "Since You Went Away" Claudette Coubert . "Fifth Avenue Girl" Ginger Rogers (without astaire). I really adore old movies. "Philidelphia Story" with Cary Grant, Katherine Hepburn and Jimmy Stewart is awesome.






5. I vote at EVERY election.
Yeah, I'm a nerd. I do like my politics, though you won't read about them here. You'll have to experience me first hand to get that. Sunday mornings often find Joe and I watching "Meet The Press". So, I'm a consistent voter. Which means of course, I get called for Jury Duty all the freakin' time. I don't come across as all politically active or anything, but my Dad taught me the importance of going and voting. I hold it (and Jury Duty for that matter) as a duty. Something to pay back the gifts that I've been given: freedom, security, a voice in the process. Voting to me is like speaking. I'm given the ability to speak. I need to use it to talk. *shrugs* Okay, enough of the Patriotic stuff.


I'd love to hear five things from a few people. Kelly Vitalo, Stacy Holmes, Dayna Hart and Crystal. In Crystal's case she's going to have to dig deep for us I think. What don't we know about you?

"Deadly Mistake" and Blogging At SoP

Deadly Mistake



There's my word count. As with every Monday I'm blogging at


Shadows Of Passion
Could you all come an visit? Thanks to Crystal and Dayna to helping me come up with a name for the romantic suspense I'm writing.

Here's the whole family.


Well, we went down and got a family picture taken finally. It's the first time in years that the whole family could stand still long enough.
I'll have a word count up (and maybe a title. I'll have to take a whip to Crystal) tomorrow for the untitled romantic suspense.
What did you do this weekend?

Must. Breath

I am so thrilled. I sold "A Taste of Christmas" to Cobblestone Press. This will be my very first release as Jennifer McKenzie. I have sold three others under my pen name.
Must. Breath.
I'm excited and scared all at the same time. I certainly didn't think it would be this quick and this much. Michelle has threatened to kill me if I downplay these sales anymore.
So, I'm going to jump up and down and wave my arms. I sold!!!!! I sold four of my stories and I have contracts to prove it.
Now I just have to believe I deserve it. LOL. I'm really excited to work with Cobblestone and The Wild Rose Press.
I started a new romantic suspense yesterday. It's at 5030 words. I'm aiming for 75-100K. I don't have a name yet. I'm waiting for Crystal to get inspired. LOL.
I know I'm not the only one who second guesses herself. Do you?

Tawny Taylor's Newest

Touch of the Beast released Wednesday, Oct. 25 Please help me spread the word!

TOUCH OF THE BEAST
(Book #2 of the Animal Urges series)

A shapeshifter erotic romance by Tawny taylor

Buy at: www.ellorascave.com
Read an excerpt at www.ellorascave.com

Blurb:

Katie Spenser is looking forward to some R-and-R with her best friend Abby when she makes the loooong trip from Chicago to Alaska. Unfortunately, rest and relaxation are not what she gets. Intead it's:

A missing best friend...
Men who turn into bears...
Bad guys shooting guns.

The only part of Katie's so-called vacation that's pleasant is Raul Zant. She simply cannot resist a guy so sexually dominant that a mere glance produces delightful tingles and quivers of anticipation. And the sex... Two words: Mind. Blowing.

Security Officer Raul must turn over his renegade best friend to Omega, or his brother will die. He loves his brother, but handing over his best friend, regardless of the reason, isn't exactly painless. And speaking of pain, his desire for Katie is so relentless and intense it's agonizing. She will surrender. He must have her.

Together, with assassins at their heels, and fiery lust driving them into each other's arms, Katie and Raul must rescue their friends, uncover who is behind Omega, and learn whether there is a cure for Raul and Tarik's unusual "ailment."

The trick will be staying alive.

You know me. I love Tawny. ALWAYS buy her stuff. Hope you all enjoy.



My Website
Home
Blog
Biography
News
Links
Bookshelf
Coming Soon
Contact

My Books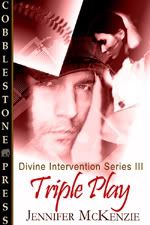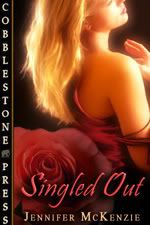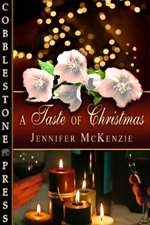 Coming Soon
Favorite Blogs
MySpace Place
My Picture Blog
Carrie's Blog
Dayna Hart's Blog
Diva Crystal's Blog
Novelty Girls
Deadliest Reports
Diva Shelli's Blog
Diva Loribelle's Blog
Diva Sela's Blog
Diva Laura's Blog
15 Minute Date Blog
Evil Editor's Blog
Writer's Widower
Glamorous Redneck
Jenna's Blog
Paula Graves Blog
Stacy's Sensibly Insane Blog
Diva Lisa's Blog
Diva Diana's Blog
Tracy Montoya's Blog
Diva Babe's Blog
Julie Cohen's Blog
Nathan Bransford's Blog
Toni Sue Versteeg's Blog
Favorite Sites
Harlequin Romance
The Manhattan Transfer Website
Robert Cray Website
Romance Writers of America
NASCAR
NCWSA
CMT
Whiskey Creek Press Torrid Romance
Larsen-Pomada Agency

Click to join SweeterRomanticNotions
Thursday Thirteen Sites

About Me
Name:: Jennifer McKenzie Location:: California
Archives
April 2006
May 2006
June 2006
July 2006
August 2006
September 2006
October 2006
November 2006
December 2006
January 2007
February 2007
March 2007
April 2007
May 2007
June 2007
July 2007
August 2007
September 2007
Credits
image by suzi ninemillimetre
design by maystar
powered by blogger